A wonderful experience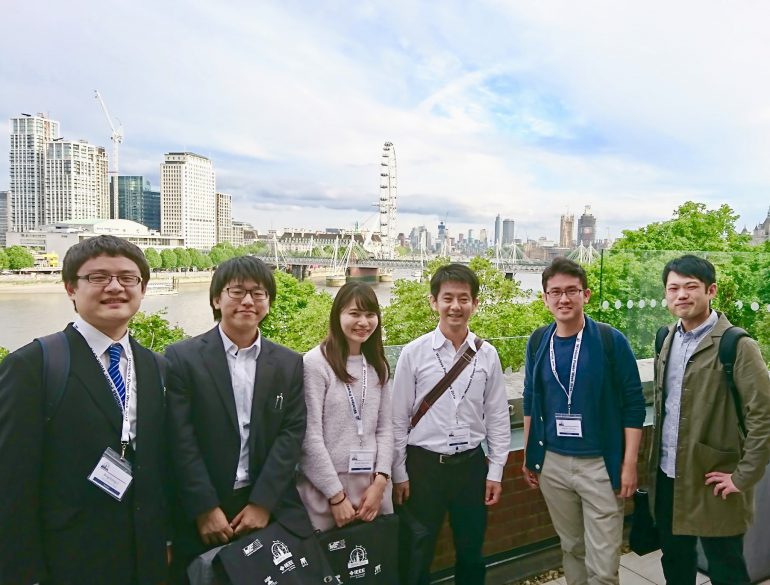 Hello, I'm Nawada, a 2nd-year graduate student at Hori-Fujimoto Lab.
The other day I attended the international conference "Wireless Power Week 2019" held in London.
It was the first time for me to attend an international conference, but I spent a valuable time. Researchers from various countries took interests in my research and rose many questions, which I didn't think is delighting and honorable so much. I was impressed by them because they had discussions with me seriously and treated me as a researcher, without laughing at my poor English. I cherish this opportunity from the bottom of my heart.
At the banquet, Nikola Tesla was also attending.
Everyone drink, laugh and party like so crazy that you cannot believe they were having earnest discussions at the presentations.
I remember the impressive word that my advisor told me just when I joined the laboratory.
"Once you entered UTokyo, you are already on the world's cutting edge. You can get closer to it as you make efforts."
Although I didn't believe in that word initially, now I really identify with it after various experiences.
Before I attended this conference I was thinking that I cannot compete with people from foreign universities or doing state-of-the-art research. Now that I think it was a complete delusion. As I made communications with them, although they speak different languages and are excellent people engaged in state-of-the-art research, I realized that they are normal humans like me. They have their own families, hometowns, beliefs, dreams, and goals and laugh at jokes. This is the most important thing I had learned.
From next April I will start working in a field that is totally different from my research theme. Still I am really grateful that I could experience such a nice opportunity in the master course.
Although you may find yourself good or bad at research and choose a career not related to research, I recommend you to take the master course if you are dabating with yourself.
Even if you cannot rank the top in the world, by getting into contact with those at such positions, you will drastically change the way you view the world. When you make a decision, you will get reminded of that sense.
You will never waste the experience gained through the master course. And if you choose a different career you can still contribute to your research area in different ways.
Join the Department of Advanced-Energy and gain a wonnderful experience!
Unfortunately, we did not have enough time for sightseeing, but, without any flattery,  London is a wonderful city where you can enjoy just walking.
It was really an enjoyable and valuable experience.
---
This page was automatically translated into English.
Please note that the translation system may not necessarily be accurate.
Thank you in advance for your kind understanding.