EVS 31 & EVTeC2018 @ Kobe (Hori Fujimoto lab)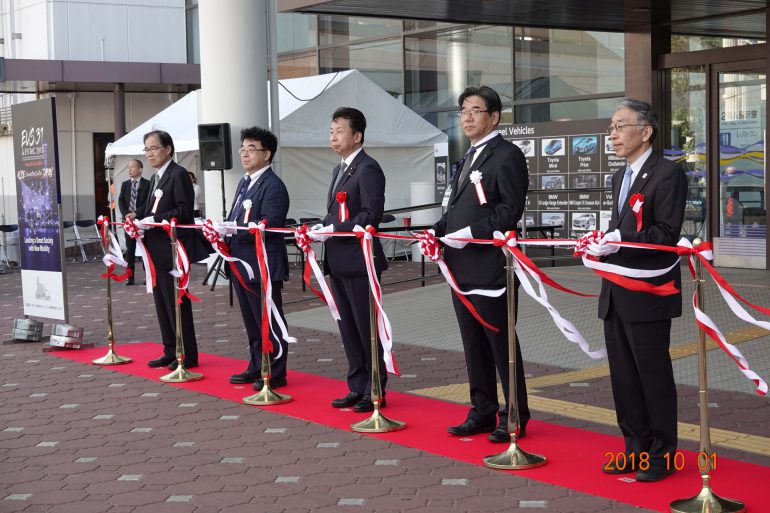 It is a field of Hori and Fujimoto laboratory (https://sites.google.com/edu.k.u-tokyo.ac.jp/hflab). This time I will write about the international conference EVS 31 @ Kobe which was held from 9/30 to 10/3.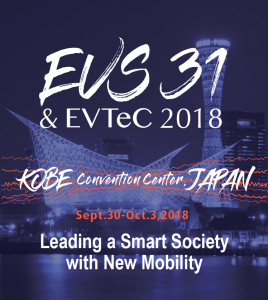 Actually, this conference, Professor Hori as chairman of the World Electric Vehicle Association (WEVA), Associate Professor Fujimoto participates in the conference management as chairman of the paper committee. Although we are discussing freely with usual laboratory presentations, I still feel the sense of the teachers.
The meeting called EVS is the 31st this year since holding the 1st in 1969. So far I have been in EVS 13 @ Osaka, EVS 22 @ Yokohama in Japan. The Asian, North American, European motor-vehicle associations are turning around in rotation, and in Asia they are holding in Japan, China and Korea, so it will be nine years later or later to come to Japan.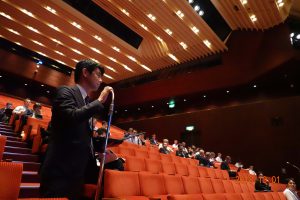 In this EVS 31, we held in conjunction with Professor Hori et al.'S international conference EVTeC2018 to greatly improve the academic level of the conference. The number of articles submission reached 447, the number of articles to be accepted was 317, and the adoption rate was around 70%, so many high-quality papers gathered so much that they could not compare with the previous EVS. Also, at the conference so far, the number of oral presentations was small, but at EVS 31 & EVTeC 2018 more than 200 papers were allocated to oral presentations, realizing a session configuration that seems to be an academic meeting in a way that meets the needs of the presenter.
In the keynote lecture, the vice presidents of each company and the VIP of the managing director were welcomed, and discussions on policies and future technology glowed hotly in the panel session with experts such as Ministry of Economy, Trade and Industry, Ministry of Land, Infrastructure and Transport, automobile and communication. Active discussions focusing on the future, such as connected technology, energy supply, future image for the smart society created by electric cars, made me feel the possibility of new mobility to be created from now on.
Participants of the conference, exhibitors and test-ride participants all exceeded 1,000 people (about 1,300 people and about 1,500 people each), and each session had a hot debate. At the exhibition, we are exhibiting universities besides corporate exhibitions, and we also have a second-generation wireless in-wheel motor (https://www.youtube.com/watch?time_continue=3&v=dFlT7sGmoik) from Hori and Fujimoto laboratory We exhibited experimental vehicles equipped with a large number of participants. At the test ride, the reservation was rushing and I heard the voice that the order did not come around quite often, and it became a great crowd.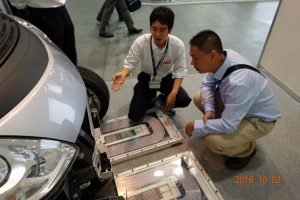 EVS 31 & EVTeC 2018 that began with the arrival of Typhoon No. 24, was not the meeting itself a huge success? (At least it was a wonderful meeting as I participated). There were many calamities such as the 9/30 being hit by typhoon, all sessions were canceled, meeting participants were delayed on site entry, etc. However, as soon as we set up an emergency session (typhoon session! It was a very proud conference as a Japanese as it was seen in various places in detail that meetings held at the meeting in.


The next event is EVS 32 @ Lyon, France (2019/5/19 ~ 22). In the automotive field, the transition from electricity trend to electric cars is becoming active, and not only in Japan but also in other countries around the world, such as Europe and China. In order to prevent easy game change here, I will be absorbed in my daily research and discussion and I would like to disseminate these results.
---
This page was automatically translated into English.
Please note that the translation system may not necessarily be accurate.
Thank you in advance for your kind understanding.