Daily life of the Yoshida / Nishiura laboratory.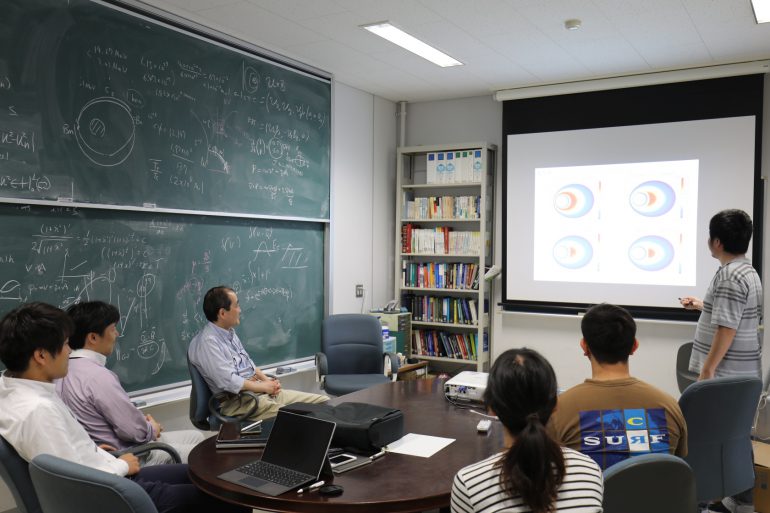 Yoshida Nishiura Laboratory Master 2 Years of Katsura. In this blog of Yoshida Nishiura laboratory, I would like to introduce a part of our daily life. Yoshida Nishiura Laboratory conducts plasma experiments using plasma confinement equipment RT-1 for 1 week to 2 weeks every month. This week I was hitting this experimental period and was doing experiments. I will post that state. Also I did a rehearsal for the presentation for the conference at the end of June yesterday. It is a wonderful opportunity to receive valuable advice from teachers. There is a sense of tension just like the actual number. Also yesterday, on June 21, we also had a social gathering with the companies who had created plasma confinement equipment RT – 1 of our laboratory with Professor Yoshida.
Last month, the following two papers were elected "top 13 theoretical plasma physics papers" at Journal Physics of Plasmas. Please have a look.
https://aip-info.org/1XPS-5MOYN-A5MSB8EU34/cr.aspx
Yohei Kawazura, George Miloshevich, Philip J. Morrison; Action principles for relativistic extended
magnetohydrodynamics: A unified theory of magnetofluid models
Hamdi M. Abdelhamid, Zensho Yoshida; Nonlinear Alfvén waves in extended magnetohydrodynamics
---
This page was automatically translated into English.
Please note that the translation system may not necessarily be accurate.
Thank you in advance for your kind understanding.