Participated in the student exchange event "GPAN"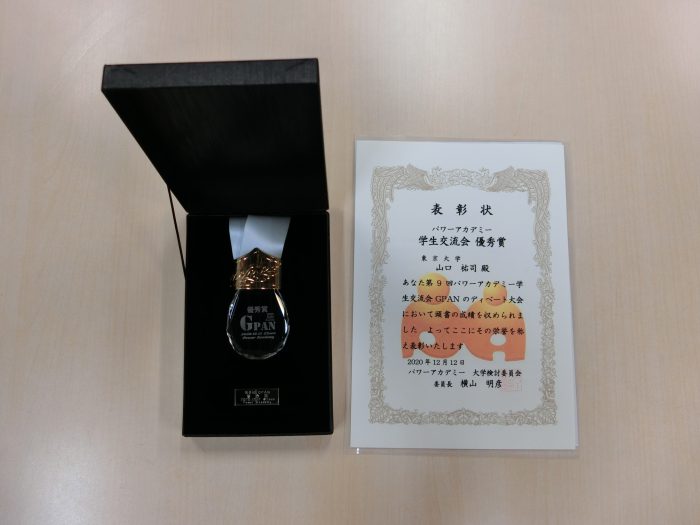 Hello. I'm Yamaguchi, a first year master's student at Baba Laboratory. In this article, I would like to introduce the state of the student exchange meeting "GPAN" held in December last year. This event is held every year for the purpose of interacting with students who are doing research on electrical engineering and with people in the electrical engineering field, and is held face-to-face around September every year. However, in consideration of the spread of the new corona virus, this time it was postponed and held online.
The main event was a student debate tournament, in which a team of 3 to 4 people debated under a set theme and position (agreement or disagreement). The themes include offshore wind, off-the-grid, and coal-fired topics, which have recently attracted attention, and I have joined a group that is negative about the introduction of offshore wind. With a tight schedule of preparing in the morning and debating in the afternoon, to be honest, I can't prepare to my satisfaction, and I disagree with the technology that is expected in the future. I also felt the difficulty. However, upon investigation, we found that there are still many issues with offshore wind power generation, and among them, we focused on the impact on the natural environment, the issues of floating equipment, and the uneven distribution of potential. Each member made preparations and faced the debate. In the debate, there were many parts that I was satisfied with the opinions of the supporters, but I was able to stick to the claim until the end and received the Excellence Award. The discussions with the other teams were great and I didn't expect to receive the award, but it was a good memory.
After that, an exchange meeting was held with people from the industrial world, student secretaries in charge of management, and faculty secretaries. It was a great opportunity to talk with students from different universities and grades, including while preparing for the debate. Currently, all academic societies are held online, and there are few opportunities to interact with people from other universities, so although it was an online format, I was able to spend a very meaningful time. ..
"GPAN" is scheduled to be held again this year, and I will be involved in the management as a student secretary. We are currently preparing, but we hope that anyone who has read this article will want to participate. We look forward to seeing you at the next "GPAN"!
Reference: Power Academy "9th Student Exchange Meeting" GPAN ""
https://www.power-academy.jp/event/gpan2020/
Postscript: Recent status report of the laboratory
From this April, Professor Baba has been promoted to Professor. In addition, a total of 5 new members have been added to each of the doctoral, master's, and undergraduate programs. Although the laboratory is operated mainly online, it has become a policy to enhance study sessions, etc., and currently makes presentations on grid forming on a rotating basis and discusses future energy composition, which has become a hot topic these days. I'm going.
---
This page was automatically translated into English.
Please note that the translation system may not necessarily be accurate.
Thank you in advance for your kind understanding.