I got a beak from an egg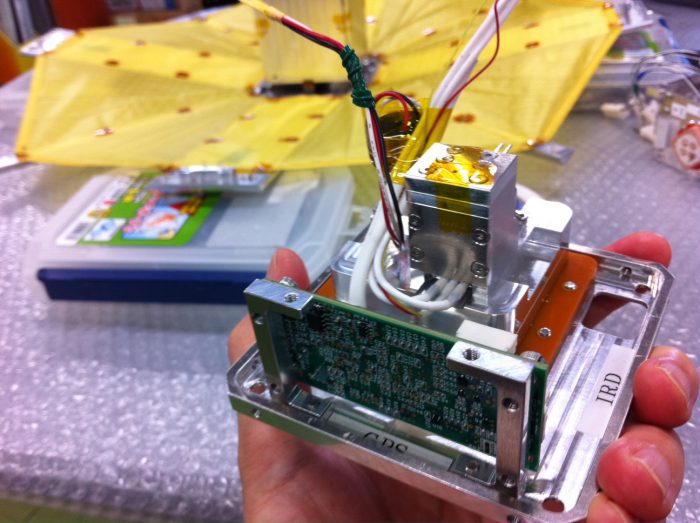 Ladies and gentlemen, Hello. This is Suzuki Lab. This time, I would like to talk about the status of microsatellite that is being jointly developed with laboratory colleagues at JAXA Space Research Institute, Nihon University, Tokyo Institute of Technology, and Osaka University.
Suzuki Lab's range of defense is fluid mechanics in general, but we are particularly good at atmospheric entry and ultra-high-speed aerodynamics related to it. I wanted to design an atmospheric entry aircraft of a different type from the capsule-type air vehicle represented by the Hayabusa2 sample return capsule that will return to Earth this December, and I used it as an umbrella two years ago. I devised an air brake (aeroshell). Vehicle material is not convincing only by research in computers and laboratories, so in order to actually fly it and demonstrate its effectiveness, JAXA's balloon, sounding rocket, International Space Station Japan Module (Kibo) I have been using it for almost 20 years and have been working with my fellow laboratories.
Most recently, due to the microsatellite release device (JSSOD) installed in Kibo in 2017, a 3U size (1U is 10cm square according to the microsatellite standard. 3U is 10cm x 10cm x 30cm) and 4kg microsatellite I flew the EGG, spread an 80 cm diameter umbrella in space and dropped it into the Earth's atmosphere (of course, it burned out properly in the sky and did not bother the ground). The satellite named BEAK, which is currently under development, is the second and evolved version of EGG. The predecessor EGG was also full of gimmicks such as satellite operation using mobile phones (iridium satellite phones) and mail without the need for a ground antenna, and a floating ring type aeroshell that inflates with gas, but the second generation BEAK has an umbrella in space. Experiments to expand and separate it, aeroshell of shape memory alloy frame that automatically expands by heat, ultra-small attitude control, etc. are further elaborate. Among them, Suzuki Lab was in charge of an ultra-small rocket engine (named TWEET) that uses water. The photo is of EM (real FM = engineer model that verifies the design before making a flight model) last month.
The specialty of the laboratory is aerodynamics, and rocket engines are amateurs, so at first a student leader became a disciple in Professor Koizumi's laboratory and taught me from the beginning. Water is heated with a heater to create steam, which is then injected to obtain thrust. BEAK has many other mechanisms to be installed, and it is small and light, so I designed it with the boldness of an amateur. It weighs less than 170 grams, which does not mean that it is overweight and is an answering machine on the ground.
I was wondering what would happen to the development due to the corona virus, but fortunately I had confirmed the basic design concept before the epidemic, and I was able to proceed with the development with a minimum of laboratory work. However, from now on, we have to make FM together with other equipment, complete it as a satellite, and pass various environmental tests. Whether the satellite can be safely handed over to the space station from next spring to early summer, I'm still sick, but I'll continue to have a lot of fun (remembering later).
---
This page was automatically translated into English.
Please note that the translation system may not necessarily be accurate.
Thank you in advance for your kind understanding.