A factory tour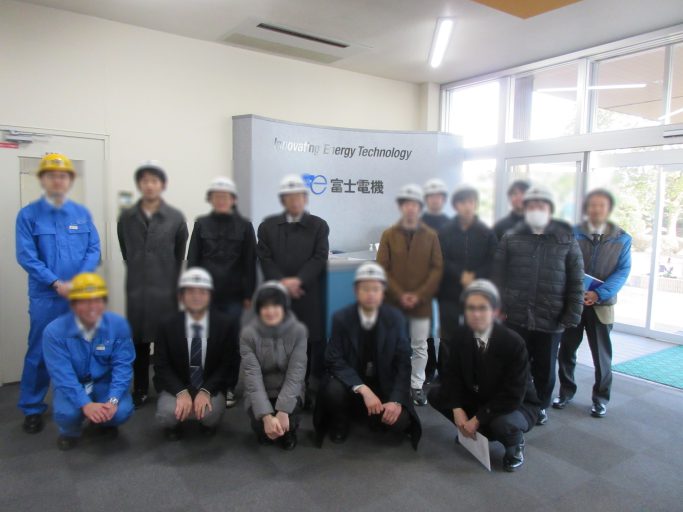 Hello. I'm Sekino, a master of Baba Lab.
This time, I would like to introduce a tour of the Fuji Electric Chiba Plant, which I recently participated. The event was hosted by APET (Center for Advanced Energy and Environmental Technology Education and Research), and two people including myself participated from Baba Lab. The Chiba Factory is located a few stations south of Chiba Station, facing the sea and is surrounded by an industrial area.
At the Chiba factory, we toured transformers, switchgears, and SOx scrubbers for ships. When making a transformer, first make a rectangular iron core. The process is to make four stacks of thin silicon steel sheets and combine them into a rectangular shape. He used a special machine to cut the steel plate, and was gradually working to automate the work. The winding work required that there be no gaps and that the winding be done neatly, and skilled workers had to do the work.
The switchgear manufacturing site was a clean room. In order to prevent foreign matter from entering, the shutters were double-installed.
A marine scrubber is a device that purifies exhaust gas from ship engines. Such equipment is used because the heavy oil used as fuel contains sulfur, which must be removed to meet regulations. By devising the structure, it can be made smaller, and it seems that it can be easily attached to existing ships. Until now, I had the image that power system-related equipment was mainly manufactured, but for the first time I knew that such a product was being manufactured and felt fresh.
Since it produces large equipment, it seems that a crane is installed to move from the exit of the building to the ship, and it seems that it is transported by loading on the ship. I felt the scale was very large.
After the tour, I was glad that the design department employees came and answered our questions and deepened our understanding. Finally, I would like to thank Fuji Electric Co., Ltd. for setting up a tour opportunity.
---
This page was automatically translated into English.
Please note that the translation system may not necessarily be accurate.
Thank you in advance for your kind understanding.