I went to Chichibu, Nagatoro on a laboratory trip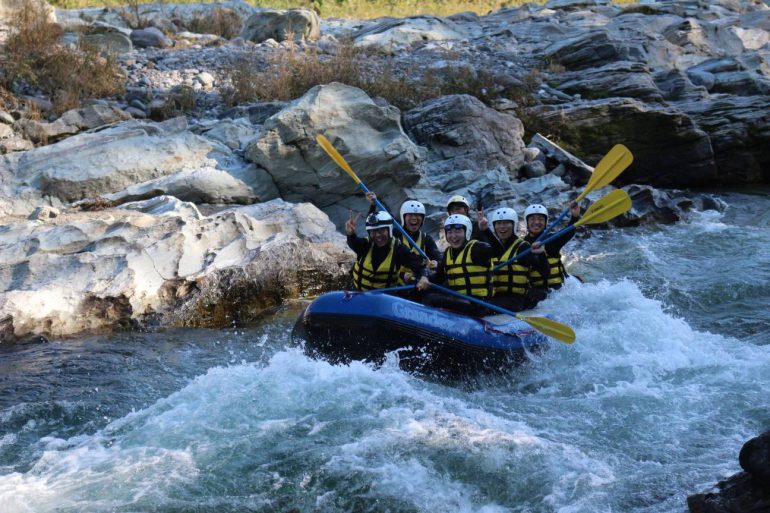 Hello.
Ryo Ono laboratory belongs to Mr. Iwase of Masters 2 years.
Ono Ryoken is a member of the laboratory every year and travels two nights a night.
This year, I visited Chichibu and Nagao in two days of 10/27, 28.
Speaking of Chichibu, it is one of the leading sightseeing spots that can be reached in less than an hour from the city center, and when we visited there were plenty of people.
In the meantime, we did activities, rafting, which is done in Nagao. Arakawa passes through this area, and it is famous for river descent using this.
Rafting is also an activity that used a river, going down a river on an eight-person rubber boat.
At the beginning, everyone said that they did not want to fall in the water, but when they started they suddenly appeared occasionally and they were very excited by the great nature spreading in front of us, I was very satisfied with the pleasure beyond expectation.
After the rafting, it is the annual BBQ time. Chichibu is also famous as a camp site, but we rent a cottage that contains 12 people in one of them, and enjoyed drinking and eating at the BBQ place which is installed.
And when the BBQ is over, we return to the cottage and the second meeting. I enjoyed it until the night got better.
On the second day, we visited Nagaoka and Chichibu's sightseeing spots. I climbed a ropeway to the mountain called Mt. Haito in Nagaoka, and went round the scenic spot called Iwamiya. From the summit of Mt. Hozuyama there was magnificent scenery spreading, there was beauty that I could not believe it was an hour from the city center. In Chichibu, we enjoyed a variety of things, including entering hot springs and enjoying sake.
Over the course of time the time was in the evening, and we all went on our way home.
This trip did not use a car, but it was a good place to enjoy enough on foot.
If you extend your legs a bit, you will see more beautiful nature. Next time I thought that I would like to use the car by all means.
---
This page was automatically translated into English.
Please note that the translation system may not necessarily be accurate.
Thank you in advance for your kind understanding.