Arakawa, Komurasaki, Koizumi laboratory homepage transition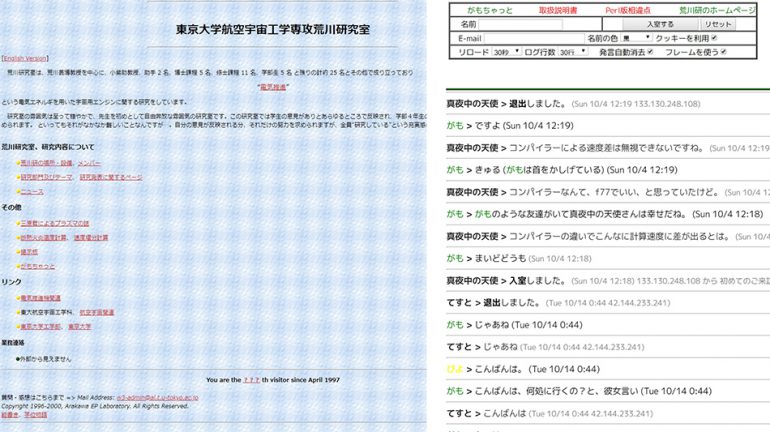 Subsequently, Hiroyuki Koizumi is a faculty member of Advanced Energy Engineering. It is related to the previous entry, but in updating the homepage, I remembered a lot of the homepages involved in the past. I, Koizumi himself created the entire homepage twice in the past. It is the Arakawa / Miroyoshi laboratory page belonging to the assistant era from students and my current laboratory page. Among them, the former is the first HP making and the impression is deep memories. So, since it is a good opportunity (?), I would like to look back on the transition of the Arakawa / Miroi Laboratory Page (currently the Small Purple / Koizumi Laboratory Page). There are four generations versions on the same page in the past. For the current 4th generation, the whole log of the 2 nd generation and 3 rd generation is at hand, my first log was in hand of Dr. Nakano sensei (to be described later), so it is a comment with a restored image.
The first generation was the page (left image) that was open to the public in 1996 – 2000 which can also be called the dawn of the Internet, and Professor Masakatsu Nakano of the Tokyo Industrial College of Technology (Doctoral Course at the time) was created. Although it is the top such as simple itself, I think that the text base was natural at the line speed at the time. Inside there are electric propulsion and plasma commentary etc, the amount of information was overwhelmingly abundant compared to others (I am wondering what the "story tale" at the bottom was). At that time, I was looking for a graduate school laboratory on the net as an external undergraduate, but in the era when Wikipedia could not be used (memories that I thought it existed but memory was not useful), this amount of information is very appealing It was. I think that it was here that I knew electric propulsion for the first time. In addition, noteworthy is the AI ​​chat page called GamoChat. It is a chat room that I hardly see recently, but at that time I was extremely prosperous. In GamoChat, a pseudo AI named "Tamo" has its own system which responds to all comments. Microsoft 's "Rinno" etc. is a topic now, it is a system that had anticipated the times 10 – 20 years (electric promotion has nothing to do with it). Many graduate students (especially 1 or 2 students) have been posting between the research. In addition, it is surprising that we are still changing whereabouts (right picture).
Second generation. The page published from 2001 – 2004 was created by Atsushi Hosoda of the Japan Aerospace Exploration Agency (a doctoral student at the time). As a person in a certain Twitter, I am a senior who has a core fan. The gorgeousness as the overall design is increasingly visible. There is an image with "Arakawa laboratory" at the top. There is an image (left image), but after 15 seconds after display, there is a gimmick that is overwritten on the "small purple laboratory" signboard (right image) (after that every 15 seconds It changes to). Basically there are things some students are creating, and I think that humor is built in every other homepage such as hidden links, and I think that it was a page with much more humor through all generations at all. As expected, it is "the inside person".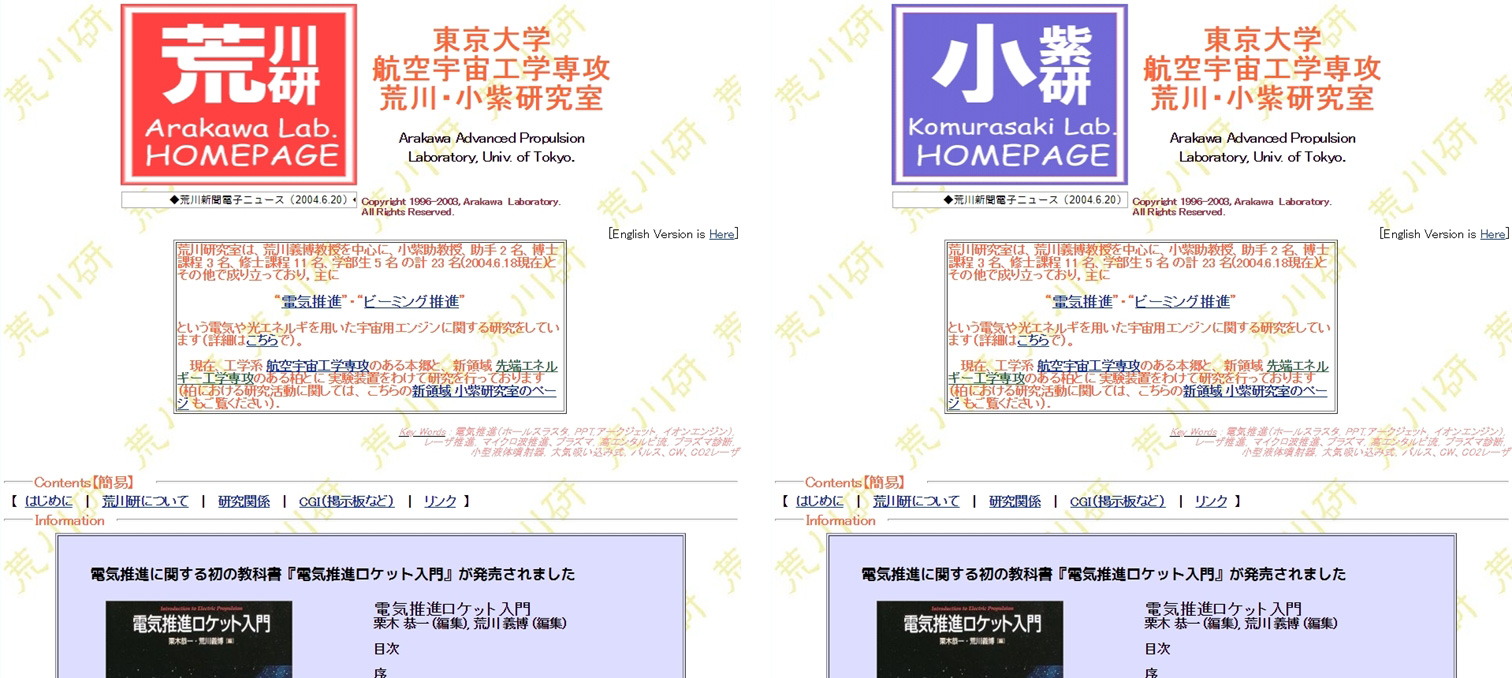 The third generation was published in 2005 – 2008, and it was created by Koizumi during the assistant era. Until then, I had created research group pages, but this was my first time to create HP. I spent a lot of time thinking about frameworks and designs when creating it. This experience has had a great influence on this latest energy-efficient HP renovation and the present my laboratory creation. Besides, I was fascinated to create icons for each menu with photoshop. It is a time when "shadows" and "blurs" are used everywhere. Also, in order to arrange these images exactly, we had difficulty adjusting the pixel unit in html tagging (despite this, despite this, it is a mistake that I am misaligned when I restore it now). Doctoral student at the time (medium image) has nostalgic things. Also, as a handover of humor, I was playing with creating a hidden page (right image) (moving when clicking a place with a regular page moved).

The fourth generation was published from 2009 to the present, and Professor Shigeru Yokota of University of Tsukuba (then Assistant Professor) was created. Strictly speaking, minor changes have been made as a result of management transition from Assistant Professor Tony Schönherr (now ESTEC) from 2011 to Ryosuke Kawashima (current post) from 2015, but the basic design has changed significantly since 2009 not. It is a design which is totally inferior to today's numerous HP, and I admire the sense of Professor Yokota's sense. The traditional hidden humor was also inherited, and a gimmick was installed (it refuses neatly, although it keeps it off) that the face of the teacher emerges in the top image when updating the top page 7 to 8 times. However, it seems that the face does not appear no matter how many times it is renewed today, and it seems that autonomous annihilation seems to have occurred beforehand (now the laboratory HP is completely official). Or, I can not deny the possibility that I do not know himself who became a teacher, but I would like to keep away from deep down.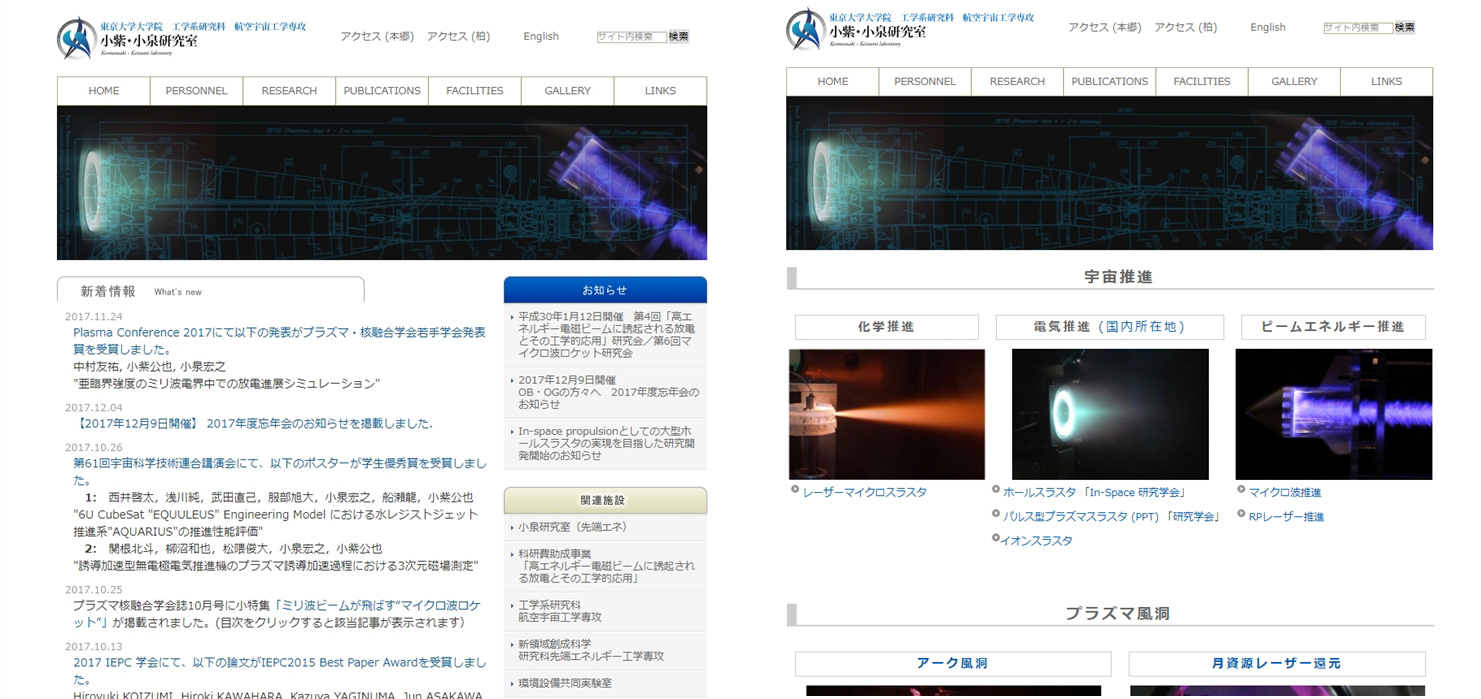 ---
This page was automatically translated into English.
Please note that the translation system may not necessarily be accurate.
Thank you in advance for your kind understanding.