Princeton University Professor Park is staying as a specially appointed professor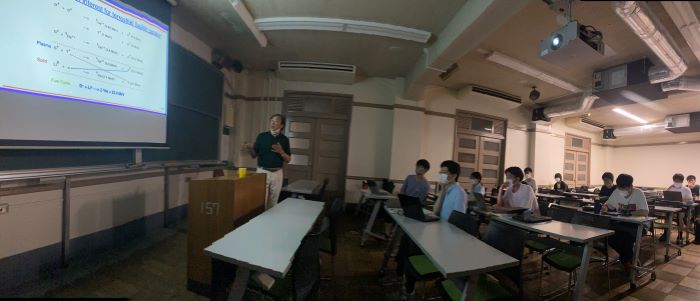 The hot days are continuing, but currently the "Princeton UTokyo Educational Partnership in Interrelationship of Plasma Sciences in Laboratory and in Space", a joint research and education project between the University of Tokyo and Princeton University, is underway. I am currently staying at Yasushi Ono's laboratory as a specially appointed foreign professor. Professor Park is a world authority on plasma measurement methods, and is especially famous for starting ECE imaging measurement, and has led fusion plasma measurement at Princeton University for more than 30 years. In the Fusion Science Special Lectures I and II of the graduate school lectures of the Nuclear Fusion Research and Education Program, the professor will be in charge of lectures centered on plasma measurement and fusion plasma. He is also in charge of lectures for students, and a joint plasma class project between the two universities is underway. The photograph is a scene from the introductory lecture "Nuclear Fusion Plasma Experiment Basic Course" held at the Komaba Campus in July. Students from the College of Arts and Sciences asked lively questions about the future of fusion energy development, studying abroad at Princeton University, and the University of Tokyo-Princeton University joint research and education project. In his laboratory, he is educating graduate students on the theme of imaging measurements that specialize in magnetic reconnection phenomena, mainly ECE.
---
This page was automatically translated into English.
Please note that the translation system may not necessarily be accurate.
Thank you in advance for your kind understanding.