APET Student Tour (NGK Insulators, Ltd. Komaki Office)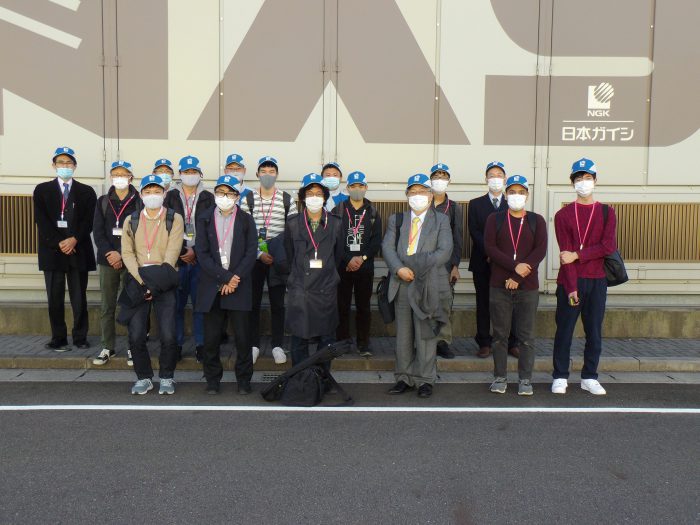 Hello. I'm Yamaguchi, a 4th year undergraduate student at Baba Laboratory. In November of last year, I participated in a student tour sponsored by APET (Alliance for Education and Research on Advanced Electricity Energy and Environmental Technology), and I would like to report on its contents. This time, we visited the Komaki Plant of NGK Insulators, Ltd. in Aichi Prefecture, and mainly visited NAS batteries and high-voltage technology.

First, we learned about the principle, structure, and application examples of the battery system for NAS batteries, and then observed the actual NAS batteries and their manufacturing process. NAS batteries are batteries that charge and discharge by a chemical reaction of sodium (Na) and sulfur (S), and are being introduced not only in Japan but also around the world as a device suitable for long-term power supply in the power system. Has been done. It was my first time to observe the battery manufacturing process, but I realized that there are more processes than I expected and that high technology is required in a wide range of fields. Also, I was told that there are various variations in the installation method when introducing it as a system, depending on the installation location and transportation method, and it was very interesting that various ideas other than the battery itself were studded. is. The Baba laboratory to which I belong is conducting research on electric power systems, and there are many situations in which we assume the use of electric power storage devices such as storage batteries, but during the tour, there are differences in characteristics when compared to lithium-ion batteries. I learned a lot about such things as well.

Next, I moved to the Electric Power Technology Research Institute and visited the high-voltage test facility and the insulator museum. I was overwhelmed by the scale of the test equipment and was surprised to be able to reproduce various environments. I felt that these tests support daily safety and security. In addition, at the Insulator Museum, we visited various places not only in Japan but also in the world, and we were able to trace the history that various things were considered and evolved with the development of technology. The high-voltage field is not usually closely related, but it was a valuable experience for me to study something I had never known before as an important technology that supports the power system.

Last but not least, NGK Insulators, Ltd., who accepted our tour in the recent social situation, APET secretariat who held the tour, and student guidance. I would like to conclude this article by thanking Professor Yokoyama and Professor Kawai for their support. I'm really thankful to you.

---
This page was automatically translated into English.
Please note that the translation system may not necessarily be accurate.
Thank you in advance for your kind understanding.