Study camp Hello, this is Yokota Yoshida laboratory two years. The other day at Yoshida lab, we went to an annual study camp.
The inn was located in the Yamanaka dormitory owned by the University of Tokyo on Lake Yamanaka. Fortunately, it was in the strong wind area of Typhoon No.17. However, the purpose was, of course, study camps, not sightseeing. The theme was "data science", and each of them read books on the theme, studied, presented at the camp, and proceeded with discussions. Yoshida lab was a plasma lab, so there were no experts, but that was why the discussion was heated and it was a very valuable time.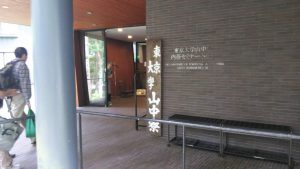 After dinner, I slept quickly and prepared for tomorrow.
---
This page was automatically translated into English.
Please note that the translation system may not necessarily be accurate.
Thank you in advance for your kind understanding.