At the Small Satellite Conference 2017, an EQUULEUS three-dimensional orbit model is exhibited.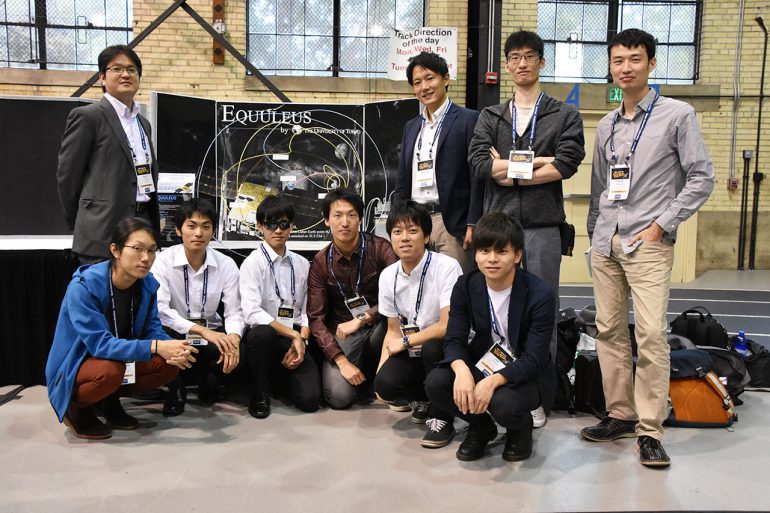 The joint exhibition of Nakasuka Funase and Koizumi Labs at Small Satellite Conference 2017, the ultra compact deep space exploration cube, EQUULEUS, started from today. The main feature of this exhibition is EQUULEUS three dimensional orbit model in the Earth – Moon system. I was struggling to transport acrylic boards, lost posters (fogot) and get stuck, but I managed to finish it safely. EQUULEUS is an ultra compact deep space explorer that demonstrates orbital operation technology in the sun – earth – moon area through sailing to the Earth – Moon Lagrange point. The University of Tokyo Nakasuga · Funase Laboratory and JAXA jointly proposed the 6U size cube suits for deep space exploration and NASA plans to launch in 2019 The first machine of the SLS (Space Launch System) launched in 2019 It was selected as a payload (for details see http://issl.space.tu-tokyo.ac.jp/equuleus/). Koizumi Laboratory is in charge of developing AQUARIUS, an engine using water as a propellant installed in EQUULEUS. After departing the Earth, EQUULEUS will perform a swing-by in the moon several times using AQUARIUS, and eventually it will arrive at the Lagrangian point (EML 2) on the back of the moon. This swing-by orbit is quite complicated, but it is obvious if you look at the three-dimensional orbit model! If you are interested in participating in SSC, please visit us by all means (It is in the annex Fieldhouse and is the U8 on the left hand side).
---
This page was automatically translated into English.
Please note that the translation system may not necessarily be accurate.
Thank you in advance for your kind understanding.