No. 1 in Japan!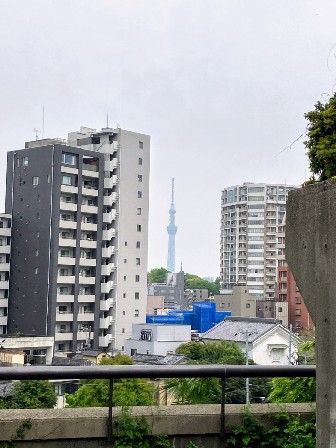 Hello. I'm Yuto Kimata, a first year master's student at Ryo Ono Lab. Our laboratory is located on the Hongo campus, which is unusual for a major in advanced energy engineering. The campus is close to the city center, so you can see the Tokyo Sky Tree from here. The above picture was taken from the terrace of the building called Engineering Building 10, where the laboratory is located. The tea you get while looking at the best building in Japan is several times more delicious than usual. I made a new discovery while enjoying tea and looking it up on my smartphone. It seems that part of the Sky Tree plays a role as a research facility at the University of Tokyo! It is said that research using the difference in gravity between the ground and high places is being conducted there (* This is not the research of this department). Unexpectedly, I was reminded of the strength of the University of Tokyo's presence, and the tea became more delicious.
A lot of interesting research is being done at the University of Tokyo. If you are considering going on to higher education, please take a look at various laboratories!
---
This page was automatically translated into English.
Please note that the translation system may not necessarily be accurate.
Thank you in advance for your kind understanding.