Assoc. prof. Hiroyuki Koizumi and others won the IEPC 2015 Best Paper Award.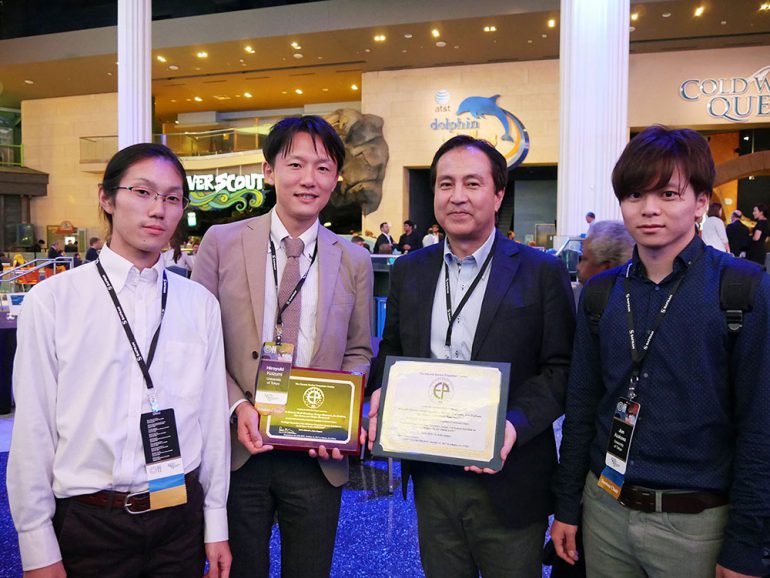 At the Inernational Electric Propulsion Conference (International Electrotechnical Commission, IEPC 2017) held at Atlanta, USA from Sunday, 9th to 12th, 2017, Associate Professor Hiroyuki Koizumi at the previous conference two years ago The presented paper was awarded the IEPC 2015 Best Paper Award. The award is given to each one after the two-year selection period at the same international conference to be held once every two years. The target dissertation was
Title: In-Flight Operation of the Miniature Propulsion System Installed on Small Space Probe: PROCYON
Authors: Hiroyuki Koizumi, Hiroki Kawahara, Kazuya Yaginuma, Jun Asakawa, Ryu Funase, and Kimiya Komurasaki,
Mr. Taki Kawahara (present IA) who completed the master's degree in the Department of Aerospace Engineering, Graduate School of Engineering, Kazuya Yanagawa at 2 years of doctoral course, Jun Mi Asakawa, Associate Professor Funase Ryu of the Department, Professor Kimiya Komurasaki Co-authored paper. This paper summarizes the initial operation of the propulsion system in the compact deep space explorer PROCYON jointly developed by the University of Tokyo and JAXA, and the development, demonstration and operation of the small propulsion system in the world's first compact deep space explorer The result was evaluated.
---
This page was automatically translated into English.
Please note that the translation system may not necessarily be accurate.
Thank you in advance for your kind understanding.